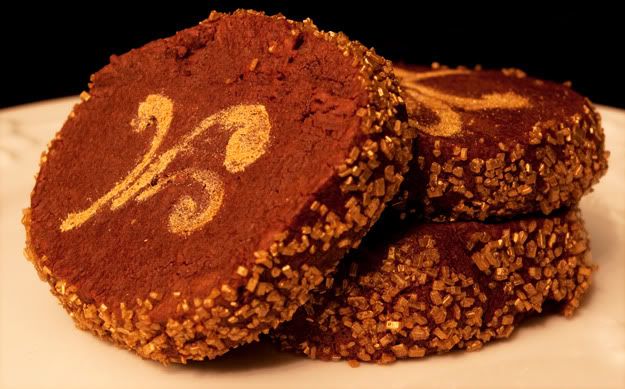 Seen above is the best chocolate cookie you'll ever eat. There's probably more that could be said, but we're awfully close to Christmas, so let's just get to it. Buy the ingredients below tomorrow morning. The prep is quick, and you're family will love these on Christmas morning.

Ingredients:
2 cups all-purpose flour
1/2 teaspoon baking powder
1/2 teaspoon salt
1 1/2 sticks (3/4 cup) unsalted butter softened (use Plugra)
1 cup sugar
1 large egg
1/2 teaspoon vanilla
1/2 cup Dutch-process unsweetened cocoa powder
1/2 teaspoon baking soda
10 1/2 oz of fine-quality bittersweet chocolate (not unsweetened), melted and cooled

To make:

1. Whisk together flour, baking powder, and salt in a small bowl.
2. Beat together butter and sugar in a large bowl with an electric mixer (or in a stand mixer on medium-high speed with paddle attachment) for about 3 minutes until pale and fluffy. Beat in the egg and vanilla. Lower speed to low setting and add flour mixture just until combined.
3. Continue on low speed while you add cocoa, baking soda, and finally the melted chocolate.
4. Form dough (which will be stiff) into a 14-inch log on a sheet of plastic wrap and roll up. Chill dough for at least 4 hours (can be chilled for up to five days, or frozen in a double layer of wrap for 1 month--although you'll want to thaw it in the fridge just until you can cut it).
5. Slice dough in 1/4 to 1/2 inch slices, roll edges in sugar, crushed pistachios, or whatever makes you happy, and bake the slices on an ungreased cookie sheet in a preheated oven at 375 degrees.
6. Cook cookies for 12-15 minutes, cool on sheets for another 4-5 minutes, and then transfer to a rack to cool completely.

Enjoy, and Merry Christmas!