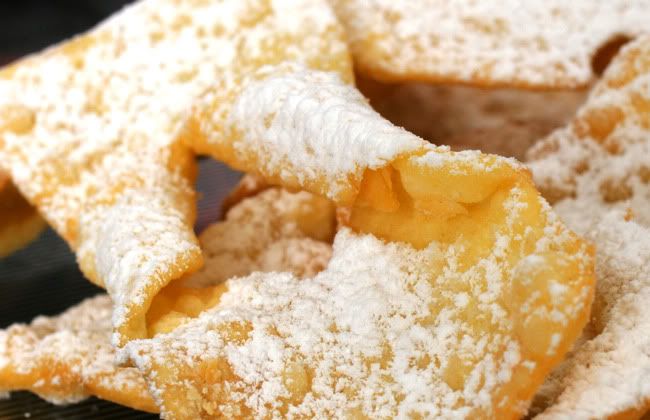 They're called "Chrusciki." If you're a lover of cookies, you have to try these... think, "warm funnelcake with a crunch." We used to buy these from a small market in Cincinnati. They're even better if you make them yourself.
Ingredients (Makes 7 dozen):
1 tablespoon unsalted butter
2 large eggs
5 large egg yolks
3 tablespoons granulated sugar
1 1/2 teaspoons salt
1 teaspoon pure vanilla extract
1 teaspoon distilled white vinegar
1 tablespoon rum
3 tablespoons sour cream
2 to 3 cups all-purpose flour
Pure vegetable shortening, for deep-frying
Confectioners' sugar, sifted, for sprinkling
1. Melt butter, and combine with eggs, egg yolks, granulated sugar, salt, extract, vinegar, rum, and sour cream in a large, heavy mixer. Using the paddle attachment, beat on medium-high until lemon colored. Gradually add enough flour to produce a fairly stiff dough. Turn out onto a floured board, and knead for 8 to 10 minutes, adding flour if necessary, until dough blisters, becomes elastic, and can be handled easily. Cut dough in half, and wrap one half with plastic wrap; reserve at room temperature.
2. Roll half of dough very, very thin, and cut into strips about 4 inches long and 1 1/4 inches wide. Cut the ends on a diagonal. Slit each piece in the center, and pull one end through the slit. Place on a parchment-lined baking sheet, and cover with a towel to keep moist. Repeat with other half of dough.
3. Heat shortening in a cast-iron frying pan to 375 degrees. and fry the dough strips, a few at a time until lightly browned, about 1 minute, turning once with a long fork or tongs.
4. Drain chrusciki on brown paper bags or paper towels; transfer to a cooling rack, and sprinkle with confectioners' sugar.
5. Finally, store, tightly covered, in wax-paper-lined tins.

Note: This recipe makes an enormous quantity, so it can be halved if you wish, but do not divide the vanilla extract. Also, make sure the eggs and butter are room temperature when you begin. If your guests don't love these, do not invite them back; they are clearly not good people.